Welcome to the Deer Class.
The Class Teacher is Miss Lineker and the Teaching Assistants are Mrs Dodes and Mrs Pepperdine.
Welcome to Term 2 in the Deer Class! This term, we shall be learning about World War One.
Families join us on board the Titanic for our showcase afternoon!
Captain Edward John Smith and his crew welcomed passengers on board the Titanic this afternoon. They sampled our third class menu, were entertained by Irish jig dancing and heard who was to blame for the terrible disaster!
I am so proud of all of the Deer Class for their amazing hard work! We have loved sharing our work with our families and we are so grateful for their support this afternoon. What a great end to the term!
PGL - morning update
After a night full of sleep, the children are waking up for breakfast and their final two activities. We will be arriving back at school at the expected time, in time for the end of the school day.
Year Six have arrived safely at Caythorpe Court...let the fun begin!
We have heard from the staff accompanying this year's PGL trip. They had a good journey and are busy settling in to their holiday.
Third Class Passengers Cook up a Storm!
After researching the types of foods eaten by passengers on board the Titanic, we decided to have a cooking lesson and recreate one of the dishes. We imagined we were third class passengers and created our own vegetable soup! We learnt many new skills including peeling, chopping and dicing vegetables, softening onions and adding stock.
It smelt beautiful when it was cooking, so much so that Mr Hawkins, Mr Shortland and Mrs Paul were drawn to our classroom to come and see what we had been making!
We cannot wait to try our dish!
How did music affect the passengers on board the Titanic?
In our topic lesson today, we were posed with the following question:
How did music affect the passengers on board the Titanic?
We listened to three different pieces of music and wrote down how they made us feel or we drew pictures of what the pieces made us think. We decided that some music might have made the passengers feel relaxed and calm, especially the song that was reportedly played in the final moments. However, we believe that this music lured the passengers into a false sense of security and made them think that all was fine on board the ship when in fact the ship was sinking!
We made some excellent observations and mature responses.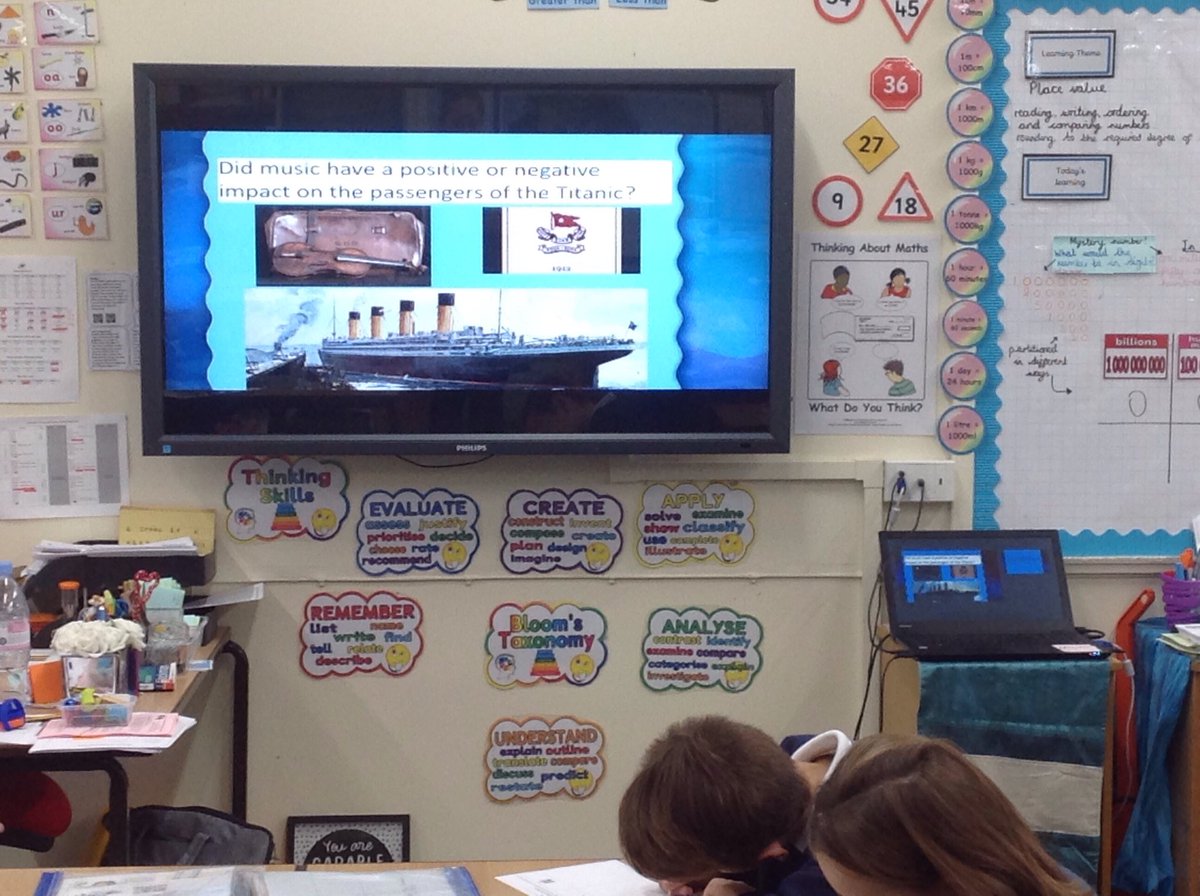 Well done Year 6!